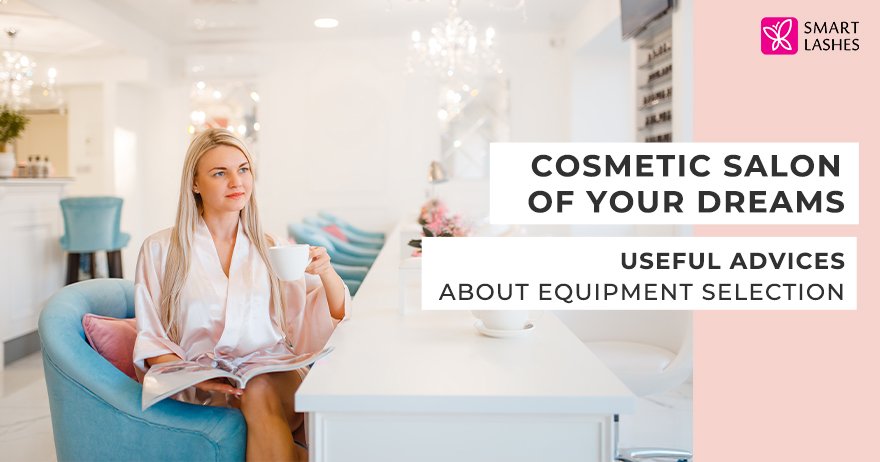 You have already completed the eyelash extension course and you are thinking about what materials and furniture for your dream salon afford? We have some useful tips for you which helps you consider when you will choosing.
Every woman hides a sense of aesthetics and the choice of furniture and accessories is a pleasant relaxation for them. Unfortunately, we also forget about the practical side of the equipment, which is very important in the cosmetics industry.
Comfort first!
Cosmetic couch is an integral part of the equipment of all beauty salons and lash studios. For a cosmetologist, choosing a couch is one of the most important moments . Ussualy
it is the most expensive salon equipment. However, you should not be frightened of prices, because it is an investment for many years. A high-quality couch can last up to ten years.
The couch should have high-quality padding to provide perfect comfort during long procedures. At the same time it should be adjustable, stable construction is a matter of course. Also focus on a cover that should be easy to wash to maintain hygiene. Today's market offers a wide variety of gadgets, such as storage boxes, where you can hide various tools or a removable cushion to create a face opening during massage.
Other accessories such as a bed sheet, a blanket or an ergonomic cushion, which gracefully fixes the client's head, are inseparable from the couch.
Let's shine on it!
Another important element is the choice of lighting. Lighting quality has a great influence on work efficiency and especially on the health of your eyes. Lack of quality light can cause concentration, fatigue, discomfort, eye and headache or other problems.
High quality lighting according to hygienic standards needs every salon that wants to provide professional services. Lighting should not create glare and shadows that put a strain on the eyes and may cause poor performance (the study reports up to 30%). It should be emphasized that poor lighting means not only a lack of light, but also too much room lighting.
When selecting lighting, focus primarily on the intensity of the light emitted and its color. The ideal lamp should have these parameters adjustable. Pay attention to the lamp construction itself. If you know it will stand in one place, it is better to choose a more robust base. If you want to move or travel with the lamp, it is better to choose a lightweight design. Another option is to firmly screw the lamp to the worktop. In our offer you will find a range of lamps that meet all the above conditions. Thanks to the large selection you can perfectly match the interior of your salon.
All tools nicely at hand!
A lot of different aids are used during cosmetic procedures, which need to be put away somewhere. If you do not want to keep running, we recommend that you purchase a cosmetic table, ideally on wheels, so that you can easily handle it around the room. At the same time, it should have a stable rigid construction so that the products do not topple. You can choose from different materials, constructions and types of storage space. For ourselves we can recommend a variant with a drawer for storing aids.
Opublikowano dnia:
Luty 18, 2020
|